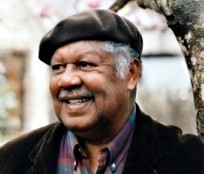 Ernest J. Gaines and Junot Díaz to Receive 2016 Legacy Awards
Nominees Announced for Debut Fiction, Fiction, Nonfiction, and Poetry
WASHINGTON, D.C. – The Zora Neale Hurston/Richard Wright Foundation will present the 2016 Legacy Awards on Friday, October 21st at the historic Washington Plaza Hotel in Washington, D.C.
Receiving the North Star Award – the foundation's highest honor for career accomplishment and inspiration to the writing community – is Ernest J. Gaines, the award-winning author of A Lesson Before Dying. Pulitzer Prize-winning novelist Junot Díaz will receive the Ella Baker Award, which recognizes writers for work that advances social justice.
Gaines has received numerous awards, including the Presidential National Medal of Arts from President Barack Obama in 2012. Others honors include the National Humanities Medal, the National Book Critics Circle Award, the Louisiana Humanist of the Year and a MacArthur Foundation "Genius" Fellowship. In 2000, he was made a Chevalier (Knight) of the French Order of Arts and Letters. Gaines serves as writer-in-residence emeritus at University of Louisiana at Lafayette (formerly University of Southwestern Louisiana). Many of Gaines' works are taught in schools and are celebrated in the canon of world literature. Some of his most-read are The Autobiography of Miss Jane Pittman and A Gathering of Old Men.
Díaz is the author of the critically acclaimed Drown and The Brief Wondrous Life of Oscar Wao, which won the 2008 Pulitzer Prize and the National Book Critics Circle Award. He is a co-founder of Voices of Our Nation Arts (VONA) workshop and advocates for writers of color. He also is the recipient of a MacArthur Foundation "Genius" Fellowship, PEN/Malamud Award, Dayton Literary Peace Prize, Guggenheim Fellowship and PEN/O. Henry Award.
The evening will culminate in the announcement of the winners of the juried awards for books by Black authors published in 2015 in the categories of debut fiction, fiction, nonfiction, and poetry. The ceremony draws an audience of more than 200 literary stars and representatives of the publishing industry, media, arts, politics, and academia. The 2016 Hurston/Wright Legacy Awards continue the foundation's tradition of recognizing literary excellence by writers from the United States as well as the international Black writing community. Winners of the Hurston/Wright Award for College Writers, under the sponsorship of Amistad books, a division of Harper Collins Publishers, also will be honored.
The Nominees for the 2016 Hurston/Wright Legacy Awards are:
Debut Fiction
Mourner's Bench by Sanderia Faye (The University of Arkansas Press)
The Star Side of Bird Hill by Naomi Jackson (Penguin Press)
The Fishermen by Chigozie Obioma (Little, Brown and Company)
Fiction
The Sellout by Paul Beatty (Farrar, Straus and Giroux)
The Turner House by Angela Flournoy (Houghton Mifflin Harcourt)
Delicious Foods by James Hannaham (Little, Brown and Company)
Welcome to Braggsville by T. Geronimo Johnson (William Morrow)
Under the Udala Trees by Chinelo Okparanta (Houghton Mifflin Harcourt)
The Lost Child by Caryl Phillips (Farrar, Straus and Giroux)
Nonfiction
The Light of the World by Elizabeth Alexander (Grand Central Publishing)
Confronting Black Jacobins: The United States, the Haitian Revolution, and the Origins of the Dominican Republic by Gerald Horne (Monthly Review Press)
Spectacle: The Astonishing Life of Ota Benga by Pamela Newkirk (Amistad)
Where Everybody Looks Like Me: At the Crossroads of America's Black Colleges and Culture by Ron Stodghill (Amistad)
Infectious Madness: The Surprising Science of How We "Catch" Mental Illness by Harriet A. Washington (Little, Brown and Company)
The Beast Side: Living and Dying While Black in America by D. Watkins (Hot Books/Skyhorse Publishing)
Poetry
Honest Engine by Kyle Dargan (The University of Georgia Press)
Forest Primeval by Vievee Francis (TriQuarterly Books/Northwestern University Press)
Catalog of Unabashed Gratitude by Ross Gay (University of Pittsburgh Press)
How to Be Drawn by Terrance Hayes (Penguin Books)
It Seems Like a Mighty Long Time by Angela Jackson (TriQuarterly Books/Northwestern University Press)
Voyage of the Sable Venus by Robin Coste Lewis (Alfred A. Knopf)
The judges:
Debut Fiction — Mitchell S. Jackson, Laila Lalami and Nelly Rosario
Fiction — Jeffery Renard Allen, April Mosolino and Nancy Rawles
Nonfiction — Charles E. Cobb Jr., Natalie Hopkinson and Lawrence P. Jackson
Poetry — Amaud Jamaul Johnson, Evie Shockley and Patricia Smith