Latest Book Club Reading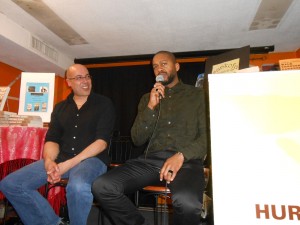 Mitchell S. Jackson and David Anthony Durham read from and discussed their work during a free, public reading at Sankofa Books in Washington, D.C., on March 14th.
Jackson's debut novel, The Residue Years, was a 2014 Hurston/Wright Legacy Award Finalist for Fiction. He also won the 2014 Ernest J. Gaines Award for Literary Excellence.
Durham, a prodigious author of many historical fiction and fantasy novels, is the author also of Walk Through Darkness and Gabriel's Story, which won the 2002 Hurston/Wright Legacy Award for Debut Fiction.
Both writers were recipients of the Hurston/Wright award for college writers.
During the event at Sankofa, Jackson read from and discussed an essay and a short story inspired by memories of growing up in Portland, Oregon, and Durham read from a screenplay of Gabriel's Story, which has been optioned for a feature film. Earlier in the day, both taught at the Hurston/Wright Weekend Writers Workshop.